[rev_slider alias="levano-restaurant-bar"]
Your Title Goes Here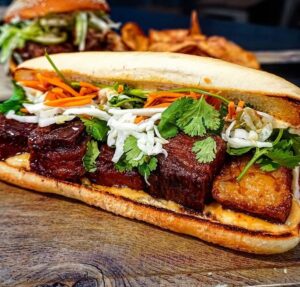 Your content goes here. Edit or remove this text inline or in the module Content settings. You can also style every aspect of this content in the module Design settings and even apply custom CSS to this text in the module Advanced settings.
"Why sandwiches?  Because people love sandwiches.  We can go from grilled cheese to a burger with Foie gras.  These are all sandwiches!  People are looking for comfort food in a bite." – Chef John Collazo
While sticking their toes in the sand, Chef John Collazo and his wife talked about their next move.  They talked about the possibility of moving to New York, Georgia, or Orlando, but they knew there was something big and awesome on the horizon. They both looked at each other, and Chef John exclaimed, "Hey!  What about a food truck?!"
The idea was born.  Chef John and his wife decided on Orlando. It's near the beach, and there's plenty of sunshine.  It's perfect.  Chef John had a buddy who just happened to have a gutted out van at his pawn shop for sale.  All of the stars started to align.  Food trucks have little overhead, and they did not have to come up with lots of money to get their truck ready for business.
After being in the food industry since he was 16, Chef John wanted a change that would fulfill his passion for combining flavors and putting them in the perfect vessel, sandwiches.  Bad A's Sandwiches was a no-brainer. His rebellious personality resonates in passion for food and love for everything Bad Ass.
Everything from the menu to the logo created by Chef John's nephew to the name is simply Bad As's.
After six months of hanging out in SODO in early 2015, Bad As's Sandwiches was kicked out due to code enforcement.  Chef John and his wife to opened up their Rolodex to make contacts and find locations for their food truck.  The eviction was a blessing in disguise.  After only one week out of the SODO district, their following increased by five times!
Bad As's Sandwiches patrons had a craving for their menu including their braised pork belly sandwich, the Ninja, their most famous.  They kept coming back for more.
Another problem arose.  Chef John and his wife needed more space and a professional kitchen.  The Bad As's Sandwiches customers had spoken, it was time to open a brick and mortar restaurant to satiate their cravings seven days a week.
In early 2017, Chef John Collazo and his wife opened Bad As's Sandwiches located in the heart of the Milk District on 207 N Primrose Road.
Chef John Collazo has always known his love of food was something to be explored. At an early age, he spent hours in the kitchen honing in his skills with the help of his mentor, his mother. At just 17-years-old he started building a culinary career as a kitchen manager in an upscale sports lounge in Allentown, Pennsylvania. In 2000, he chose The Restaurant School at Walnut Hill College in Philadelphia to further develop his culinary expertise. He helped open different concepts in New York, Philadelphia, Nantucket and Martha's Vineyard – holding high level positions in award winning restaurants like Anaelle and Hugo, KASA Restaurant & Bar, and Raga Restaurant. In 2015, he fulfilled his dream of becoming his own boss and created the on-the-go concept of Bad As's Sandwich. The menu, created to 'wow' food truck lovers in Central Florida, focuses on a combination of elevated flavors and creativity using fresh ingredients with a unique flare. The Orlando Sentinel describes it as, "a spin on a food beloved by so many." In 2016, the concept expanded into a brick-and-mortar spot in the heart of Orlando. Chef Collazo hopes his food will bring joy to his customers and inspire love for flavorful ingredients.
COME BY SOON!
BAD AS'S BURGERS

 NOW OPEN!!!
 4205 CURRY FORD RD, ORLANDO, FL 32806
BAD AS'S BURGERS Hours 
Monday-Friday 12PM-4PM
CLOSED 1 hour for lunch 
RE-OPENS 5PM-10PM
Saturdays & Sundays 12PM-10PM